IT Services Gold Coast | Computer Insurance Report
Speak Directly to a tech now!
Remote Computer Repairs
computerguys.com.au now offer – Remote Computer Repairs and support by arrangement.
When you can't wait for a call out or we can see a way to assit you sooner through reaching out to your PC and getting the job done remotely, our remote support option can be initiated.
We use the most secure and non persistant means to access your Computer network and when were done their will be no remote software left on your PC and there is no way we can access your system without your inviting us along again.
Remote support opion is available to all existing Computerguys clients and can be arranged for on a casual basis by calling us on 0412 758612.
Disabled
If you have a disability that prevents you from bringing your PC in for support we are keen to assist you further, please contact us and ask for a reduced rate if you are on a disability pension or feel that you would qualify for this offer. We already assist many disabled people and are happy to speak with you directly or via your carer, please phone me, Garth Watson personally on 0412 758612.

Don't let a Geek mess with your gizmo
Although professionally run and well resourced, computerguys.com.au is not a franchise, but you probably worked that out already as most business people can spot a franchise roll out in a flash.
If you would like your computers repaired in the Gold Coast area by someone with many years of real ONSITE experience please give us a try. You'll be dealing with the people that have owned and run the business for over a decade, people who will respect your right to make choices and have some say in the way I.T work is carried out for you and your company.
We will never discuss your business or what we see and hear in an inappropriate or unprofessional manner with anyone. We value your business privacy and we value discretion.
ComputerGuys has been built up over the years purely on referrals and word of mouth from one client to another and that's how it will always be.
We value you the client and we value any referrals and recommendations that you may make after using our services and products.
We do sell products and are competitive but…
When I started computerguys back in 1988, I was sure of one thing, there was a need to provide non product centric services, to offer products and recommendation but to always keep sales agendas from steering clients in a direction that may not be the best for them. Well plenty of people have commented to me over the years that it's nice to know that they are not going to have a product recommended to them by us simply because we happen to be "overstocked" or are "running a promotion" as may occur when engaging a sales or product oriented company to provide service and know how.
I know that people switch off and stop listening when the sales pitches start flying and I can not afford to have that happen because I need my clients to be actively involved in all of their decision making related to their I.T, service and infrastructure. We will gladly install, setup, configure or repair most computer related product purchased from any vendor or company. We want you to know that we hold your best interests foremost and are not dependent on revenue from sales to operate successfully.
We can also manage your Internet Hosting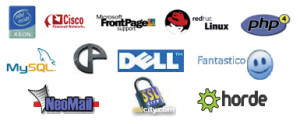 The Ideal Backup Solution for Windows
Designed exclusively for Windows, Casper makes it a snap to keep an instantly bootable backup hard disk for your system. When disaster strikes, you can use your backup as a complete and immediate replacement for your original hard disk. It's that easy! More Info